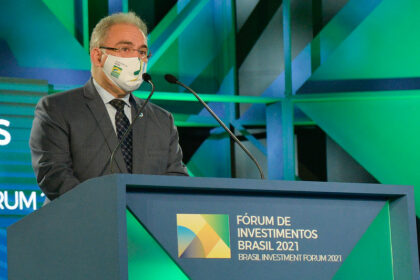 The Minister of Economy, Paulo Guedes, and the Minister of Health, Marcelo Queiroga, were optimistic during their participation in the first Keynote Session of the Brasil Investment Forum (BIF) 2021, on Monday.
During the first Keynote Session of the Brasil Investment Forum (BIF) 2021, held on Monday (31) the Minister of Economy, Paulo Guedes, stated that after a year with a priority focus on fighting the pandemic, structural reforms that will improve investment prospects and the recovery of sustainable economic growth are being taken up. "We have investments in the public sector and we want to become the largest border of international private investments in the world," he said.
For Guedes, mass vaccination is the main economic policy that can be carried out now, and it is also the main health policy. "Vaccination will guarantee a safe return to economic activities," he assured.
The minister also pointed out that the idea is to bring down the "Brazil cost", starting with the approval of new laws and the implementation of specific measures to encourage private investment and strengthen the government's role in attracting it. As an example, he mentioned the need to improve the business environment in the country and its rank regarding global competitiveness. "We must advance 30 to 40 positions in the world ranking", anticipated the Minister of Economy.
During his participation in the event, the Minister of Health, Marcelo Queiroga, emphasized the area's importance for Brazilian economy. According to him, Brazil spends 9.2% of its GDP on health. "The sector also has a strategic economic importance, with a growing participation in the total added value of the Brazilian economy, in the generation of income, and in the total number of jobs", the minister pointed out.
Queiroga also encouraged the private sector to work together with Brazil: "In this moment of crisis, the sum of efforts and public and private resources are fundamental to overcome the challenges of the Covid-19 pandemic".
BIF 2021
The Brasil Investment Forum (BIF) – organized by Apex-Brasil, the Inter-American Development Bank (IDB) and the Brazilian Government – is the largest event for investment attraction in Latin America. The 2021 edition, which was held completely online, brought together Brazilian authorities and executives from major companies to discuss challenges and opportunities in the infrastructure, energy, agribusiness, technology, and innovation sectors. The event took place on May 31 and June 1st.