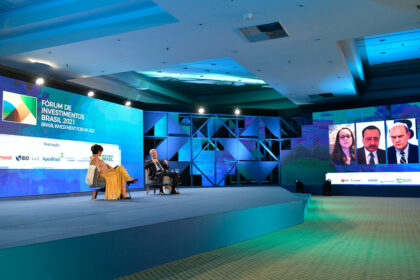 Minister of Mines and Energy and representatives from the IDB and the private sector participated in a panel on energy transition at the Brasil Investment Forum (BIF) 2021
Brazil is expecting "strong expansion" in the biofuels sector over the next few years, with investments that may reach R$ 400 billion. The announcement was made on Monday by the Minister of Mines and Energy, Bento Albuquerque, during his participation at the Brasil Investment Forum (BIF) 2021. The event, held on May 31 and June 1st, was organized by the Brazilian Trade and Investment Promotion Agency (Apex-Brasil), the Inter-American Development Bank (IDB) and the Brazilian Government.
The minister was part of the panel "Energy transition in Brazil: the importance of renewable energy and foreign direct investment", alongside representatives of the IDB and private companies operating in Brazil. He highlighted the positive results of the RenovaBio program and the Brazilian history in the implementation of public policies for the sector: "Our transportation matrix is considered the cleanest in the world.
An initiative that began 50 years ago and is being improved because biofuels and bioenergy policies are an international reference, and we can be proud of this".
The meeting was moderated by the CEO of ABEEólica, Élbia Gannoum, who pointed out the investment opportunities available in Brazil. For her, the perspective of the regulatory apparatus, highlighted by the minister, "is very good for investors. "We realize that, with this wealth, Brazil has many opportunities and we can think of opportunities beyond electricity," emphasized Gannoum.
External investments
Climatescope 2020, conducted by BloombergNEF, shows Brazil as the 3rd most attractive country to invest in the implementation of renewable sources. Those opportunities were discussed by the President of Equinor Brazil, Veronica Coelho, the CEO of EDP Brazil, João Marques da Cruz, and the Manager of the Infrastructure and Energy Sector at IDB, Jose Agustín Aguerre.
According to Aguerre, the possibilities for innovation and job creation are great, and include the development of new products for consumers. He also highlighted the opportunities in the decarbonization of public transport, in individual electric cars, and in actions for the development of energy efficiency. The Amazônia Legal program and the financing line for photovoltaic energy that is being worked on with the Brazilian Development Bank (BNDES) were also mentioned.
The CEO of EDP Brazil, João Marques da Cruz, presented projects that the company develops in the country and spoke about the interest in investing in renewable energy. "We must find balances that are in accordance with the energy transition, with a favorable evolution", he said. Veronica Coelho, from Equinor, mentioned current investments in the states of Ceará, Rio Grande do Norte, and Rio de Janeiro, and emphasized that the company has sought to invest in projects related to hydrogen and carbon capture, among others. According to her, the company, in fact, has as part of its ambition to be a leader in the energy transition process.