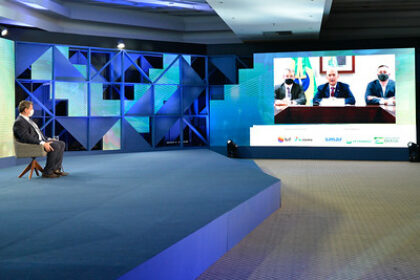 The Chief Minister of Staff and the Minister of Infrastructure highlighted the GDP growth in the first quarter of 2021 and the concessions and privatization projects underway
During the Keynote Session on Tuesday, June 1st, the Minister of Infrastructure, Tarcísio de Freitas, and the Chief Minister of Staff, Luiz Eduardo Ramos, highlighted the legal security, the sustainability of projects and the economic improvement of the country, while addressing investors interested in Brazilian assets. The meeting was part of the Brasil Investment Forum (BIF) 2021, organized by Apex-Brasil, the Inter-American Development Bank (IDB) and the Brazilian Government.
The 1.2% growth of the Gross Domestic Product (GDP), in the first quarter of the year, was mentioned by Minister Tarcísio de Freitas. "Look for our projects. What is to come is really big, the size of Brazil", he highlighted, complementing that the Brazilian Government has set a great investment program, which already made possible 70 auctions in the infrastructure sector.
"Brazil has held auctions of highways, ports, airports, and railroads. We are back to investing in railways. We are transforming our transportation matrix, which will be much more efficient in a few years", celebrated Freitas.
On the scope of opportunities for new investments, the Minister of Infrastructure mentioned concession, privatization and auction processes for the Presidente Dutra highway, 18 airports – including Viracopos, in Campinas (SP) –, ports in Espírito Santo and São Paulo and railroads. He added: "The auction of the railroad between Sinop (MT) and Mirituba (PA) has enormous potential and will become the largest regulator of tariffs in Brazil. It has the power to bring the tariff down and make our producers extremely competitive".
The Chief Minister of Staff, Luiz Eduardo Ramos, also emphasized the resumption of economic growth and the effort to reinvigorate international investments. "The moment is very favorable. Those who don't invest now in Brazil, next year will be very sorry", warned the minister, while enumerating the governmental actions to improve the business environment. For Ramos, there are windows of opportunity being opened from the process of Brazil's accession to the Organization for Economic Cooperation and Development (OECD), which is underway and will remove barriers for foreign investments. "The country has pursued an improvement in business environment for FDI attraction, the insertion in global chains, the opening of new markets, the adoption of international standards for public policies, and the maintenance of solid institutions with good governance," said the minister.